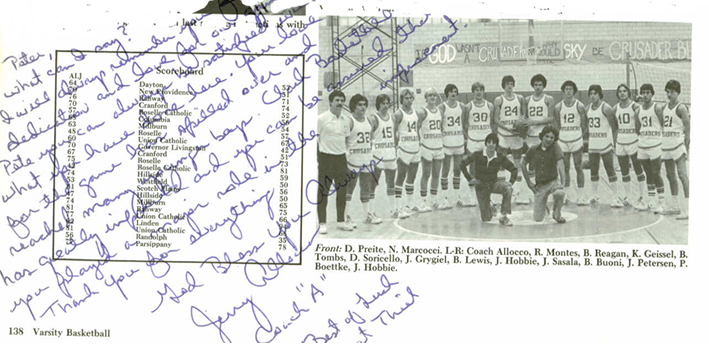 1977-78 Johnson Regional Varsity Basketball Team
Our record my senior year was 17-7, the best record in the history of the high school at the time. High School basketball in NJ is very competitive, and Union County is one of the most competitive areas in the state and a major recruiting area for colleges. From my high school team several players went on to play basketball in college -- Jerry Hobbie (Fordham), Brad Tombs (Davis & Elkins), Brian Lewis (Franklin & Marshall), and Jon Hobbie (Central Connecticut). Jerry Hobbie was even highlighted one week in Sports Illustrated for his 3 point shooting prowess. Jerry now coaches at Fairfield College in CT. Playing on the JV team my senior year was Kevin Boyle, who as a senior led Johnson Regional to the Union County championship, and then played in college at Seton Hall and then St. Peter's after transferring. Kevin is now the coach of one of the strongest high school basketball programs in the nation at St. Patrick's in Elizabeth, NJ. One of his former players, Al Harrington, plays for the Indiana Pacers and was drafted out of high school.

The competition we played against was quite strong during those years. Our main rival was Rahway, but the toughest team was Linden, NJ, who beat us in the county tournament. That Linden team had 8 players who went on to play Division I college basketball. Among those players was Aaron Howard (Villanova), Darin Devero (Seton Hall), Gordon Austin (American), and Calvin Duncan (Virginia Commonwealth). Howard became the captain of Villanova's team, Austin hit a shot over Patrick Ewing as American upset Georgetown, and Duncan was highlighted in Sports Illustrated as the college player of the week and became sort of a local legend at VCU.

Other players we played against included 'Boo' Bowers of Westfield who later stared at American University, Greg Cook of Roselle who later played for LSU, and host of others who played at different smaller colleges and junior colleges.

I also played a lot of basketball in the playgrounds around NJ. A court that I often played at in Linden was recently highlighted in ESPN's Streetball series. In the summer at the NJ Shore, I played every night at a court that attracted a lot of good players, including Ron Krayl, a former standout college player, and last cut of the 76ers in the early 1970s, and now a coach at Monmouth University. Bob Verga, who played in the ABA after a standout career at Duke was also a player on the courts at the NJ shore. I would run into Verga even more often later when he got involved with tennis and competed against him in different tournaments. Probably in retrospect, the one player who would go on to become the most famous of all the players from these playground games was Page Falkinburg, who later on became known as Diamond Dallas Page of Professional Wrestling fame.