Before devoting myself to tennis in college, I was a complete basketball nut. As a freshman in high school I played football, basketball and baseball, but by that time basketball was already the sport I loved to play more than any other. I got in trouble on more than one occassion freshman year for shooting baskets after football pratice --- coaches would be upset because if you worked as hard as you were supposed to have at football practice you should have been too tired to shoot a basketball. I never was.
I grew up in a sports oriented family. My father was a star basketball player in high school and played for the US Army AirCorp team based in Waco, TX in the early 1940s before heading off to fly in Europe during WWII (he spent the last 18 months of the war in a German prisioner of war camp). As I mentioned already, he was also an outstanding tennis player (his favorite player was Don Budge and he modeled his game on this great champion). In Depression Era NJ, my father's family lived near a church that had clay tennis courts behind it, and my father got a job in his pre-teen years cleaning and taking care of the courts and was taught how to play the game by the gentlemen who frequented the courts. My father started at guard for the varsity basketball team and was number 1 singles on the varsity tennis team at his high school from his freshman year on. My Dad was also a devoted fisherman, and spent his retirement years as a Captain on fishing boats and taking people on fly fishing tours. At one time he held a world record in fishing. My father passed away in the fall of 1999, and I miss him dearly.
My brother Fred played basketball in high school and one year at Bucknell University before a knee injury ended his college playing days. My brother is 10 years older than me, so I was introduced to basketball at an early age. My sister Sue didn't play basketball but was an outstanding gymnist at Trenton State College in the 1970s and later a very successful gymnastics coach in NJ. My nephew Kyle (Fred's second of three children) was a standout high school soccer and basketball player and played one year of college basketball at Ramapo College in NJ before switching to volleyball where he actually led the nation in blocks a good portion of his junior year and was nominated for All-American honors in his senior year.
So you get the point -- lots of sports watching and talking around the Boettke household. I can remember my brother and his friends gathered around our TV set with my Dad watching then Lew Alcindor (later Kareem Abdul-Jabbar) and UCLA take on Elvin Hayes and Houston in the Astrodome in 1968. I remember this more vividly than Neil Armstrong's first steps on the moon, though I know we gathered around the TV for that as well.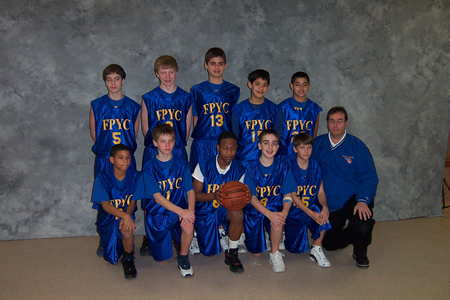 My love of basketball far exceeded my ability to play the game. Most of my teen memories are connected to basketball. I played for Johnson Regional High School in New Jersey, and worked as a camp counselor at Lehigh Valley Basketball Camp after graduation. The camp was well-known at the time for teaching skill development in high school players and was run by Ted Zawacki, then coach at Moravian College in PA. Zawacki played college basketball at Wake Forest in the 1960s and then had a coaching career that included stints at University of Delaware and a most successful stint at Union High School in NJ. In 1997, he was picked the NJ High School Basketball Coach of the Year. Zawacki retired from coaching basketball a few years ago to concentrate on helping his daughter Tory's tennis career -- she achieved a rank of #41 in the world in 2002.
In 1978, I entered Thiel College with the intent of playing basketball, and becoming a high school basketball coach. I suffered an injurty early in my freshman year that put me out for the season, and after one year I transferred to Grove City College with the same goals and carrer aspirations. But continuing injuries (and being introduced to economics) changed my life plan. However my enjoyment of the game of basketball never faded. I am an avid fan, watching hundred of games a year at the high school, college and pro level, and I am a GMU basketball season ticket holder. I have also coached youth basketball for many years in New Jersey and Virginia at the CYO, recreation, travel and AAU levels.