The Union of Church and State
In a word, what the Russian Church lacks is what is lacking throughout this country: freedom, without which life fades and light is extinguished.
The Marquis de Custine, Letters from Russia
Only the western portion of the Roman Empire fell in 476 AD; the eastern half, known as Byzantium, endured for another millennium. This political division of Europe gave rise to a crucial religious difference. In the former western Roman Empire, the Catholic Church claimed and maintained some degree of independence from secular rulers.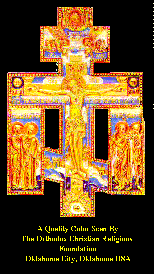 But in Byzantium, the Orthodox Church was virtually a bureau of the central government. The Byzantines transmitted their religion and its tradition to the Russians - including the tradition of utter dependence of the church upon the state. Peter the Great re-organized the church to immortalize this dependent relationship:
[Peter] deprived the patriarch of Moscow of his privilege of controlling the ecclesiastical organization and vested all powers of church government in a body, called the Holy Synod, whose members were bishops and whose chief was a layman, all chosen by the tsar himself. No appointment to ecclesiastical office could henceforth be made without the approval of the Holy Synod; no sermon could be preached and no book could be published unless it had received the sanction of that august body.
Carlton Hayes, A Political and Social History of Modern Europe
The czarist state dominated the Orthodox Church, but by making its priests into government employees, it won their loyalty and obedience. With one swoop, the state cemented an alliance with Russia's intellectual class. The intelligentsia thus were not independent critics of the state, but its hired apologists; or as de Custine remarked, "This Byzantine religion, emerging from a palace to establish order in a military encampment, cannot fulfill the highest needs of the human soul, but merely assists the police in deceiving the people... Shephards who are slaves can only lead barren spirits: an Orthodox priest will never teach is flock anything except to bow to force."
The czarist alliance of Church and State foreshadowed the Communist system in two crucial respects. The Communist state, like the czarist state, created a kept class of intellectual apologists to inculcate its rigid dogma; instead of priests, these were the Party theoreticians, lecturers, professors, journalists, and writers. And while the Communists initially waged war against all forms of religion, it did not take them long before they restored the priests of the Orthodox Church to the government's payroll and the government's service.