Servile Labor and Official Brutality
While the other nations of Europe were gradually abolishing serfdom, Catherine the Great was extending it in Russia. Serfdom and slavery still existed in Russia in 1839 when de Custine wrote his Letters, and was not officially abolished until 1861. Nor was this a marginal institution; servile labor was the norm, not the exception.
The living conditions of the slave and serf have varied enormously by place and time. In Russia, their treatment was especially harsh. "They were attached to the soil, that is, without their lord's consent they could not leave the estate on which they were born, and a transfer of an estate from one nobleman to another automatically transferred the peasants' allegiance. To their lord the peasants paid dues, for him they performed compulsory manual labor, to him they rendered obedience as to a personal master." (Carlton Hayes, A Political and Social History of Modern Europe) Catherine the Great permitted the owners of serfs to sell them to colonists in Siberia or equally harsh conditions.
The Third Census of the Russian Empire (1762-1766) provides us with the estimates of the extent of bondage; in all probability, fully seven-ninths of the Russia population was unfree at this time. Notably, at least 40% of these serfs and slaves were owned by the Russian state; (the percentage swelled after the state nationalized the land and serf holdings of the Orthodox Church). Serfdom and slavery did gradually decline in importance, but extremely slowly, as these additional censuses reveal:
Unfree Persons as a Percentage of the Population of Czarist Russia

Census Year
Private Serfs/Slaves
Government Serfs/Slaves
1722
46%
31%
1796
54%
40%
1812
51%
37%
1835
36%
35%
1851
31%
34%
1859
29%
35%

Source: James Mavor, An Economic History of Russia, p.418. Note that in Mavor's tables, the number of bondsmen excludes women, while the total population counts both sexes.
How did this condition of servitude originate?
The large number were the children of bonded parents, some became bonded through marriage, some through inscription on the poll tax rolls, with or without their own consent, some were captives taken in war, some were arrested rioters, who had been granted in bondage by way of punishment, some were Asiatic tribesmen... and some were State peasants, who had been transferred to private ownership along with lands or factories granted by the state.
James Mavor, An Economic History of Russia
"A ruler can be popular in Russia without attaching great value to the lives of Russians" noted de Custine. And while landlords might at least take care of their serfs to avoid losing a valuable investment, the Czars were rich enough to freely spend the lives they owned. The Winter Palace was destroyed by fire in 1837, but when de Custine arrived in 1839, it had already been rebuilt. How was this seemingly impossible feat accomplished? With the lives of a great many slaves:
Labour in the mines of the Urals would be less threatening to life, yet the Petersburg workers were not criminals. I have been told that those poor wretches who painted the halls where the heat was greatest were obliged to cover their heads with a kind of ice-cap, so that they could preserve the use of their senses in the baking heat they were forced to endure as long as the work continued... Yet the sovereign was called "Father" by all these men, sacrificed before his eyes in the sole name of imperial vanity.
The Marquis de Custine, Letters from Russia
Usually, when such events take place, the Tsar orders the entire village to be deported to Siberia. This is what is known in St. Petersburg as "populating Asia."
The Marquis de Custine, Letters from Russia
Out of all of the barbarities of the Czarist state, the most horrific was its system of prison camps and "colonies" in Siberia. Some of the inhabitants were fur-trappers and government employees, who went more or less voluntarily but others were far less willing: "The third group consisted of war prisoners - Poles, Lithuanians, Ukrainians, Baltic Germans, Swedes, among others - ordinary criminals, and political and religious dissenters. These deportees, in order to survive, had no choice but to defend, protect, and expand Muscovy's interests. The fourth group... was made up of farmers, craftsmen, artisans, and priests, whom the authorities sent to Siberia to assist the trailblazers." (James Mavor, An Economic History of Russia) Siberia was run like a vast military camp, or one vast prison.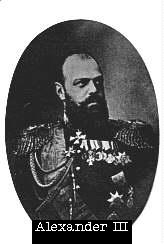 "Siberia" is virtually a synonym for a dire threat hung over the heads of dissenters. In 1914, about 9 million people lived in Siberia, of whom around 1 million were prisoners or deportees. Siberia came to house many of Russia's greatest novelists. Revolutionary opponents of the Czar were also likely to have suffered years of imprisonment in Siberia. Lenin, Stalin, and Trotsky all spent time in Siberian exile. The lesson they learned was not that sentencing their political enemies to arctic prison camps was wrong, but that they should make sure that their enemies never Siberia alive.